Balinese barong dance is one of the many forms of art in Bali. Barong is a traditional dance, usually marked by a large four-legged animal mask and costumes worn by one or two people. This dance is a relic of pre-Hindu culture and tells of a cliche, namely the conflict between good and evil. Although Barong is usually described as a tiger or lion, there are also many other types of barongs such as Kekong Barong, Pigs and Landing. Keket himself is an ox known by the Balinese as the king of the jungle by the name of Banaspati Raja. Do you want to know what the whole history of Balinese Barong dance is like? The following collection of stories will present them briefly and clearly.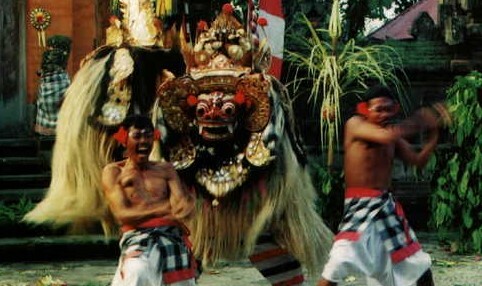 The origin of the Barong dance
It is believed that the word "Barong" comes from the word "Bahrwang", which can be interpreted freely as a bear. It is believed that this bear is a mystical power, a mythical animal that has high magical power and is worshiped as a protector. Some sources say that the history of the Balinese Barong dance is an adaptation of the history of the Chinese people, the Barongsai, while others believe that there is a very clear difference between the Barongsai and the Barong, where they think that the Barong dance is very much in accordance with the story and often interspersed with humor fresh, so the audience can stop being bored. This barong dance tells the most folklore about the struggle between good and evil. Throughout the history of Balinese barong dance, a good party is always portrayed by the figure of Barong, a four-legged animal in which two dancers are in control. The evil side is always represented the same, namely Rangda, a character like a scary woman who has two big fangs in her mouth.
There is a different view of the history of Balinese barong dance, with one view that barong dance is an art that has been around for a long time in Indonesia, the innate art of Austronesian society. This view also tells us that the story played in the Barong Dance is the story of Bhatara Pancering Jagat and his wife Ratu Ayu Pingit Dalem Dasar. Another view of barong originates from the Balinese scene, where barong dances are born from sacred stories rather than fairy tales. It is believed that the story of Barong and Rangda is related to history when Shiva was searching for Dewi Uma.
For the first time in its history, Balinese barong dance was used as a performance in the 19th century, when Raja Kelungkung, who used the name or nickname of Ida I Dewi Agung Sakti, asked about puppet shows with a total of about 36 people used by some dancers to play the role of an army of monkey kings and sometimes act as Ravana's army. The dancers then have to wear masks and clothes made from what are called Braksok fibers. Because of its popularity, the show later received the name Barong Kadingkling or Barong Blasblasan, which is considered to have made coconut trees in the village very, very fertile when visiting a village.
Types of Barong and Rangda in Balinese barong dances
In the application and development of Balinese Barong dance, there are various types of masks worn by the main dancers. The most commonly performed is Barong Ket, a dance that looks like a fusion of lions, tigers and cows. Barong's body has carved leather ornaments and mirrors that look sparkling. Barong Keket's body hairs are also made from a supplier, leaf fibers resembling pandanus and coconut fibers, and sometimes even crow feathers.
Barong Bangkal The second tangible animal, historically known as Barong Bangkal, is sometimes called Barong Celeng. As the name suggests, this barong has a shape similar to Bangkal or Bangkung, a big pig that is old. This type of barong is usually done on holy days by carrying them through the village.
The last species of the barong animal is the Barong Tiger, which, as the name suggests, is a tiger. This type of barong is famous for Balinese and Balinese. Usually they are led through villages and equipped with various drama devices such as Gamelan and others.
Another type of Barong is the Barong landing, which is no longer an animal and is more like a Jakarta ondel. The Barong Landing story tells that this barong is a representation of a Balinese King named Jaya Pangus, where he married a Chinese princess named Kang Cing Wei. The story in the Barong Landing production revolves around the question of how the marriage between the two men was not approved by the gods because Jaya Pangus was said to have hurt Adat, and when he could not have offspring, he went to Dewi Danu and made the goddess's property. a big fight between his wife and the goddess.
Besides Barong, Rangda is another party in the history of Barong, who is described as the queen of leaks. Rangda is described as often kidnapping and chasing small children and leading an army of evil magicians to drive out Barong. As in Barong, there are several types of Rangda, and the first is Rangda Nyinga, which is shaped like a lion and whose mouth is slightly protruding to illustrate that Rangda has a wild nature like a lion. The second type is Rangda Nyeleme, whose face resembles a human face to show that Rangda is authoritative. The final type of Rangda is Giant Rangda, which generally describes Rangda. This type of Rangda adds to the variation in the history of Balinese barong dance.
More :
https://dogetek.co/
https://solopellico3p.com/
https://thesrirachacookbook.com/
https://symbiantweet.com/
https://balad.org/
https://weareglory.com/
https://icanhasmotivation.com/
https://miralaonline.net/
https://rushor.com/
https://jeffmatsuda.com/
https://nashatakram.net/
https://egriechen.info/
https://mayleneandthesonsofdisaster.us/
https://mrmoseley.co.uk/
https://knowledgestudio.biz/
https://usgsprojects.org/
https://fascinasiansblog.com/
https://earlraytomblin.com/
https://cloudsoftwareprogram.org/
https://sam-worthington.net/
https://fleshlightvibroreview.com/
https://realviagraforsale-rxonline.com/
https://pharmacygig.com/
https://blog-fiesta.com/
https://chicagobearsjerseyspop.com/
https://indianapoliscoltsjerseyspop.com/
https://obatpenyakitherpes.id/
https://lakonlokal.id/
https://obatsipilisampuh.id/
https://obatwasirambeien.id/
https://sorastudio.id/
https://pesantrenkilat.id/
https://balikpapanstore.id/
https://vhost.id/
https://busbagus.co.id/
https://zalala.co.id/
https://samarindatv.co.id/
https://namabayi.co.id/
https://jilbabbayi.co.id/
https://multi-part.co.id/
https://dunebuggyforsale.org/
https://www.anythingbutipod.com/
https://filehippo.co.id/
https://downloadapk.co.id/
https://uptodown.co.id/
https://jalantikus.app/
https://vidmate.co.id/
https://www.gurupendidikan.co.id/
https://www.dosenpendidikan.co.id/
https://pakdosen.co.id/
https://www.modelbajumuslimbatik.com/
https://duniapendidikan.co.id/
https://pengajar.co.id/
https://www.sekolahbahasainggris.co.id/
https://www.ilmubahasainggris.com/
https://pendidikan.co.id/
https://www.kuliahbahasainggris.com/
https://how.co.id/
https://merekbagus.co.id/
https://merkterbaik.com/
https://sel.co.id/
https://www.dosenmatematika.co.id/
https://www.ayoksinau.com/
https://www.ram.co.id/
https://situsiphone.com/
https://ngelag.com/
https://www.sudoway.id/
https://rollingstone.co.id/
https://voi.co.id/
https://cipaganti.co.id/
https://merpati.co.id/
https://daftarpaket.co.id/
https://merkbagus.id/